Join me this Thursday, April 9, 2020 at Noon for a Webinar on the latest impact COVID-19 is having on DFW Commercial Real Estate.
I will be moderating a discussion with Craig Hall.
We will be talking about:
How recent events have impacted DFW commercial real estate, construction & lending.
Where do opportunities exist for those in the commercial real estate community.
What industries and businesses are getting hit the hardest.
What impact will the surge in remote work have on office real estate.
What makes Texas, and particularly North Texas, so special.
What does the future hold 5, 10 and 15 years out, for commercial real estate in Texas.
The Webinar is free and you can REGISTER here: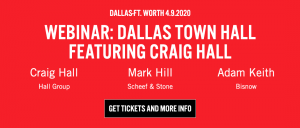 Partner,  Scheef & Stone LLP
#CRE #Business #DFW #Construction #SolidCounsel