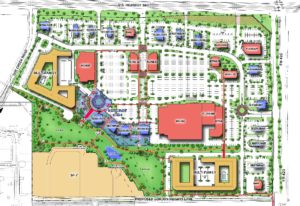 A new development called Frisco Crossing is planned for north Frisco. It will feature a cluster of restaurants with outdoor patios and a food truck park. Apartments and single-family homes would also border green space, while several retail stores would go up nearby and a dozen more eateries would border the edges of the 83.8 acres at the southwest corner of FM 423 and US 380.
This article from Frisco Enterprise gave a great introduction to the Frisco Crossing development, and its recent presentation to the City of Frisco.
Frisco Crossing is from The Rudman Partnership, the same developers bringing Frisco Station to the $5 Billion Mile along the North Dallas Tollway in Frisco.
The preliminary plans for Frisco Crossing also show a Texas Hill County style design.  As a native of the Texas Hill Country area, and with all the large scale corporate developments and re-locations coming to Frisco, it's nice to see something a bit different.